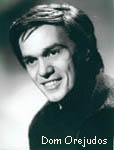 Throughout the hallways of Man'sCountry you'll find artwork by the artist "Etienne".
Together with Tom of Finland, Etienne is considered one of the two great masters of gay
leather art. Etienne's real name was Dom Orejudos (one of our founders). You can see more
of his art on the walls of our neighbor bar, the Chicago Eagle.
Our "Music Hall" on the second floor has its own history. Starting life as the lodge hall or meeting
room for the fraternity, we used it for entertainment. For years we hosted a variety of live shows
often as much as four nights per week. In those days acts like Wayland Flowers and Madam,
Charles Pierce and Sally Rand played the room. All the big divas were there, Thelma Houston,
Viola Wills and Pamela Stanley to name a few. From 1987 through 1992 the room served as the
Bistro Too dance floor during which time all those divas came back to play our stage, as did Boy
George, the Village People and Divine. (Sadly, ours was Divine's last live show before his death.)